Alan Gratz is coming to Robious Middle School and Midlothian Middle School on Tuesday, April 17th. This is a wonderful opportunity for your children to meet one of the best children's authors in our country. Look below to see how many awards he has won. His books are very popular with middle schoolers and adults enjoy them too. He is an excellent writer and his stories are great for boys or girls. And whether you like historical fiction, fantasy or a great baseball story, Mr. Gratz has a book for you!! If you want to order through your school, you can download an order form here or contact your school librarian. Or give us a call at the store at 464-1244.
For additional information about Alan Gratz's books, see his website at www.alangratz.com
Download the book order form for Midlothian Middle School here.
Download the book order form for Robious Middle School here.
Refugee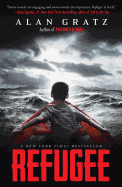 JOSEF is a Jewish boy living in 1930s Nazi Germany. With the threat of concentration camps looming, he and his family board a ship bound for the other side of the world… ISABEL is a Cuban girl in 1994. With riots and unrest plaguing her country, she and her family set out on a raft, hoping to find safety in America… MAHMOUD is a Syrian boy in 2015. With his homeland torn apart by violence and destruction, he and his family begin a long trek toward Europe… All three kids go on harrowing journeys in search of refuge. All will face unimaginable dangers -- from drownings to bombings to betrayals. But there is always the hope of tomorrow. And although Josef, Isabel, and Mahmoud are separated by continents and decades, shocking connections will tie their stories together in the end. This action-packed novel tackles topics both timely and timeless: courage, survival, and the quest for home.
(from publisher marketing information)
Awards:
2018 NCTE Charlotte Huck Outstanding Fiction for Children Honor Book
2018 Sydney Taylor Book Award Winner for Older Readers
2018 National Jewish Book Award Winner for Young Adults
2017 Malka Penn Award for Human Rights in Children's Literature Honor Book
2018 YALSA Quick Pick for Young Readers
New York Times Notable Middle Grade Children's Book 2017
YALSA 2018 Best Fiction for Young Adults
2017 Cybils Middle Grade Fiction Award Winner
2018 Notable Book for a Global Society
Kirkus Reviews Best Middle Grade Historical Books of 2017
Publishers Weekly Best Middle Grade Books of 2017
NPR's Book Concierge Great Reads of 2017
Southern Living Best Children's Books of 2017
Publishers Weekly Best Audiobooks of 2017
School Library Journal Top Ten Audio Books of 2017
Booklist Editors' Choice: Top 10 Audio for Youth 2017
Audible Best Kids' Audiobooks of 2017 – Finalist
Center for the Study of Multicultural Children's Books Best Books of 2017
New York Public Library Top 100 Best Books for Kids 2017
Chicago Public Library Kids Best Fiction for Older Readers 2017
Amazon Top 20 Best Children's Books of 2017
ABC Best Books for Young Readers 2017
A Junior Library Guild Selection
2018 Texas Lone Star Reading List
2018-2019 Texas Bluebonnet Award Nominee
2018-2019 Pennsylvania Young Reader's Choice Nominee
2018 Colorado Blue Spruce Young Adult Book Award Nominee
2019 Oklahoma Intermediate Sequoyah Award Masterlist
2019 Utah Beehive Award Nominee
Ban This Book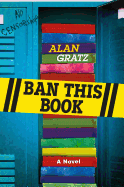 In Ban This Book, a fourth grader fights back when From the Mixed-Up Files of Mrs. Basil E. Frankweiler by E. L. Konigsburg is challenged by a well-meaning parent and taken off the shelves of her school library. Amy Anne is shy and soft-spoken, but don't mess with her when it comes to her favorite book in the whole world. Amy Anne and her lieutenants wage a battle for the books that will make you laugh and pump your fists as they start a secret banned books locker library, make up ridiculous reasons to ban every single book in the library to make a point, and take a stand against censorship.
(from publisher marketing information)
Prisoner B-3087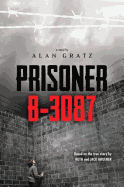 10 concentration camps. 10 different places where you are starved, tortured, and worked mercilessly. It's something no one could imagine surviving. But it is what Yanek Gruener has to face. As a Jewish boy in 1930s Poland, Yanek is at the mercy of the Nazis who have taken over. Everything he has, and everyone he loves, have been snatched brutally from him. And then Yanek himself is taken prisoner -- his arm tattooed with the words PRISONER B-3087. He is forced from one nightmarish concentration camp to another, as World War II rages all around him. He encounters evil he could have never imagined, but also sees surprising glimpses of hope amid the horror. He just barely escapes death, only to confront it again seconds later. Can Yanek make it through the terror without losing his hope, his will -- and, most of all, his sense of who he really is inside? Based on an astonishing true story.
(from publisher marketing information)
Awards:
YALSA's 2014 Best Fiction for Young Adults
2014 Bank Street Best Children's Books of the Year
2014-2015 Pennsylvania Young Reader's Choice Awards Winner
2014-2015 Nebraska Golden Sower Award Winner
2014-2015 New Hampshire Isinglass Teen Read Award Winner
2015-2016 South Carolina Junior Book Award Winner
2015-2016 Arizona Grand Canyon Reader Award Winner
2015-2016 Missouri Truman Readers Award Winner
2015-2016 Virginia Readers Choice Awards Winner
2015-2016 Tennessee Volunteer State Book Award Winner
2015-2016 Georgia Children's Book Award Nominee
2015-2016 Eliot Rosewater Indiana High School Book Award nominee
2014-2015 Iowa Teen Award Nominee
2014-2015 Wisconsin Golden Archer Award Nominee
2017-2018 North Carolina Battle of the Books List
2014-2016 North Carolina Battle of the Books List
2014 SIBA Book Awards Long List
2014 IRA Young Adult Choices Reading List
2013 Cybils Middle Grade Fiction Finalist
2013-2014 Georgia Tome Society It List
Spring 2013 Parents' Choice Awards – Recommended Seal
Projekt 1065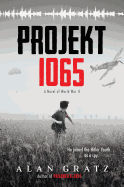 Infiltrate. Befriend. Sabotage. World War II is raging. Michael O'Shaunessey, originally from Ireland, now lives in Nazi Germany with his parents. Like the other boys in his school, Michael is a member of the Hitler Youth. But Michael has a secret. He and his parents are spies. Michael despises everything the Nazis stand for. But he joins in the Hitler Youth's horrific games and book burnings, playing the part so he can gain insider knowledge. When Michael learns about Projekt 1065, a secret Nazi war mission, things get even more complicated. He must prove his loyalty to the Hitler Youth at all costs -- even if it means risking everything he cares about. Including... his own life. From acclaimed author Alan Gratz comes a pulse-pounding novel about facing fears and fighting for what matters most.
(from publisher marketing information)
Awards
Kirkus Best Middle Grade Books of 2016
Fall 2016 Parents' Choice Gold Award
2019 Nebraska Golden Sower Award Finalist
2018-2019 Missouri Truman Award Nominee
2017-2018 Vermont Dorothy Canfield Fisher Book Award Nominee
2017-2018 North Carolina Young Adult Book Award Middle School Nominee
2018-2019 Louisiana Young Readers' Choice Award Nominee
The League of Seven (The League of Seven #1)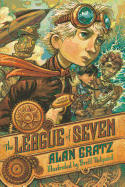 In an alternate 1875 America electricity is forbidden, Native Americans and Yankees are united, and eldritch evil lurks in the shadows. Young Archie Dent knows there really are monsters in the world. His parents are members of the Septemberist Society, whose job it is to protect humanity from hideous giants called the Mangleborn. Trapped in underground prisons for a thousand years, the giant monsters have been all but forgotten--but now they are rising again as the steam-driven America of 1875 rediscovers electricity, the lifeblood of the Mangleborn. When his parents and the rest of the Septemberists are brainwashed by one of the evil creatures, Archie must assemble a team of seven young heroes to save the world.
(from publisher marketing information)
Awards:
2015 SIBA Young Adult Book Award Winner
2016-2017 North Carolina Elementary Battle of the Books List
The Dragon Lantern (The League of Seven #2)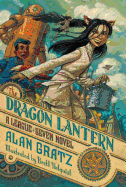 Archie Dent is convinced that he and his friends Hachi and Fergus are the first three members of a new League of Seven: a group of heroes who come together to fight the Mangleborn whenever the monsters arise to destroy humanity. His belief is put to the test when they are forced to undertake separate missions. Archie and his faithful Tik-Tok servant Mr. Rivets pursue a shapeshifting girl who has stolen the Dragon Lantern, an ancient artifact with mysterious powers. And Hachi and Fergus travel to New Orleans to find Madame Blavatsky, the only person who knows the circumstances surrounding the death of Hachi's father. In the course of their adventures the three heroes meet potential candidates to join their League. At the same time, they learn deep-rooted secrets that could destroy the League forever.
(information taken from the back cover)
The Monster War (The League of Seven #3)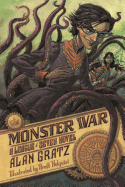 Having discovered the monstrous secret of his origins, Archie Dent is no longer certain that he is worthy to be a member of the League of Seven. But with new enemies to face, he realizes that he may not have the luxury of questioning his destiny. Wielding the Dragon Lantern, the maniacal Philomena Moffett has turned her back on the Septemberist Society, creating her own Shadow League and unleashing a monster army on the American continent. Archie and his friends must race to find the last two members of their league in time to thwart Moffett's plan and rescue humanity once more.
(from publisher marketing information)
The Brooklyn Nine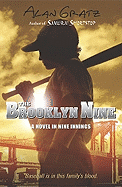 Baseball is in the Schneider family blood. Each member of this family, from family founder Felix Schneider in the 1800s to Snider Flint in the present day, has a strong tie to the game and to Brooklyn. Through the years this family has dodged bullets on a battlefield, pitched perfect games, and dealt with the devastating loss of family and the Brooklyn Dodgers. Nine innings -nine generations. One game-one family. Through it all, one thing remains true: the bonds of family are as strong as a love of the game.
(from publisher marketing information)
Awards:
Booklist's 2009 Top Ten Sports Books for Youth
Booklist's 2009 Top Ten Historical Books for Youth
2009 Junior Library Guild Selection
Chicago Public Library Best Books of 2009
Library Media Connection 2009 Editor's Choice Award
2010 Kansas State Reading Circle Catalog – starred selection
2012-2013 North Carolina Battle of the Books List
2016-2017 North Carolina Battle of the Books List
2009 Cybils Middle Grade Fiction Award Nominee
2010 Michigan Thumbs Up! Book Award Nominee
2010-2011 North Carolina YA Book Award Nominee
2011 Arizona Grand Canyon Reader Award Nominee
2011 Utah Beehive Award Nominee
2011-2012 Oklahoma Sequoyah Book Award Nominee
2011-2012 Indiana Young Hoosier Book Award Nominee
2012 New Jersey Garden State Book Award Nominee
2011-2012 Minnesota Maud Hart Lovelace Book Award Nominee
2012 New York State Reading Association Charlotte Award Nominee
Code of Honor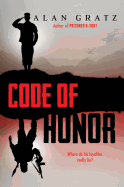 Kamran Smith has it all. He's the star of the football team, dates the most popular girl in school, and can't wait to join the Army like his big brother, Darius. Although Kamran's family hails from Iran, Kamran has always felt 100% American. Accepted. And then everything implodes. Darius is accused of being a terrorist. Kamran refuses to believe it, but the evidence is there -- Darius has been filmed making threats against his country, hinting at an upcoming deadly attack. Kamran's friends turn on him -- suddenly, in their eyes, he's a terrorist, too. Kamran knows it's up to him to clear his brother's name. In a race against time, Kamran must piece together a series of clues and codes that will lead him to Darius -- and the truth. But is it a truth Kamran is ready to face? And is he putting his own life at risk?
(from publisher marketing information)
Awards:
International Thriller Writers 2016 Best Young Adult Thriller Nominee
YALSA 2016 Quick Picks for Reluctant Young Readers
YALSA 2016 Best Books for Young Adults Nomination
Pennsylvania Young Reader's Choice Awards 2016-2017 Master List
2016-2017 Georgia Tome Society It List
International Literacy Assoc. Young Adults' Choices 2016 Reading List
2017-2018 Indiana Young Hoosier Award Master List
2017 Texas Lone Star Reading List
2017 Sakura Medal Nominee
2018 Nebraska Golden Sower Award Nominee
2017-2018 Georgia Peach Book Award Nominee
2017-2018 South Dakota Teen Choice Book Awards Nominee
Samurai Shortstop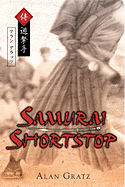 Tokyo, 1890. Toyo is caught up in the competitive world of boarding school, and must prove himself to make the team in a new sport called besuboru. But he grieves for his uncle, a samurai who sacrificed himself for his beliefs, at a time when most of Japan is eager to shed ancient traditions. It's only when his father decides to teach him the way of the samurai that Toyo grows to better understand his uncle and father. And to his surprise, the warrior training guides him to excel at baseball, a sport his father despises as yet another modern Western menace. Toyo searches desperately for a way to prove there is a place for his family's samurai values in modern Japan. Baseball might just be the answer, but will his father ever accept a Western game that stands for everything he despises?
(from publisher marketing information)
Awards:
ALA 2007 Top Ten Best Books for Young Adults
2006 Washington Post Top Ten Books for Children
Booklist's 2006 Top Ten Sports Books for Youth
Booklist's 2006 Top Ten First Books for Youth
The New York Public Library's Books for the Teen Age 2007
2007 Bank Street College of Education Best Children's Books of the Year
CCBC Choices 2007
2006 Librarians' Choices
2006 Junior Library Guild Selection
2008-2009 Pennsylvania Young Reader's Choice Master List
2017 National Network of State Teachers of the Year Social Justice Book List
Fantasy Baseball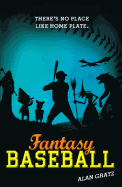 Alex Metcalf must be dreaming. What else would explain why he's playing baseball for the Oz Cyclones, with Dorothy as his captain, in the Ever After Baseball Tournament? But Alex isn't dreaming; he's just from the real world. And winning the tournament might be his only chance to get back there, because the champions get a wish granted by the Wizard. Too bad Ever After's most notorious criminal, the Big Bad Wolf, is also after the wishes. And anyone who gets in his way gets eaten! From beloved baseball author Alan Gratz comes a novel in which classic literary characters are baseball crazy, and one real-world boy must face his fears and discover the surprising truth about himself.
(from publisher marketing information)